The Dorchester 1.5 Story Ranch Plan at Imagery
To see Imagery new 55+ ranch style homes for sale in Mount Holly NC just next to Charlotte, watch this YouTube video. Tour the popular DORCHESTER plan at Lennar Imagery on Mountain Island Lake which is for sale now on Picasso Trail, Mount Holly, NC 28120 in the $425,000 – 450,000 range. Notice JACK the Real Estate Dog on this Imagery by Lennar Homes YouTube video tour! He loves this DORCHESTER, the 1.5 story version of the DOVER with 4 bedrooms and 3 baths. You can tell, if you're a Subscriber, you'll know that his "signature move" is a run up the stairs of any Model Home tour, running ahead of me and the camera! Watch JACK the Real Estate Dog work it. This DORCHESTER has all the makings of the perfect home to retire and relocate to, if you anticipate having family or friends visiting you, as there's another Bedroom and full Bath upstairs, along with a Loft. Take the tour! So, plenty of living on the first level and additional space up. Stick a fork in me, I'm done! Of all the 55+ Active Adult places in the greater Charlotte NC-SC area, Lennar Imagery on Mountain Island Lake is the only one with water view lots for sale. In fact, this Imagery new home community is shaping up so nicely and prices will never be better. Since we have Lennar Treetops to look back to, we can be reasonably certain that Lennar Homes will develop Imagery as responsibly as they did there. Already, Lennar has honored the Bechtler legacy by using the tagline, "The Art of Adult Living" and using these names for streets: Picasso Trail, Monet Boulevard and Van Gogh Trail! So, let's discover what available waterfront, water view lots are for sale at this time, and let's get you down here.
Why Imagery at Mtn Island Lake is Important
The Imagery Active Adult community from Lennar Homes has become one of my favorites, and when you come for your exploratory trip to the Charlotte area, Lennar Homes Mountain Island Lake's Imagery is a must-see. Relocation can be a challenge, but I make relocating to Charlotte easy, so Call or Text 704-345-3400 if you're moving to Charlotte NC and let me help you! Homes for sale Charlotte-NC.com is the real estate search engine from top Charlotte NC REALTOR® Roger Holloway and is filled with well over a thousand YouTube videos of new construction homes & neighborhoods in the Charlotte, North Carolina & Fort Mill, South Carolina metro real estate market. Charlotte sits just above the NC-SC state line. Plus, you can view exclusive top Charlotte REALTOR® reviews and community tours of 55+ Active Adult neighborhoods like Imagery from Lennar (the waterfront, water view 55 and better subdivision located on the Little Italy peninsula of Mountain Island Lake). And our other thriving 55+ places like Kolter Homes' Cresswind Charlotte, Trilogy Lake Norman from Shea Homes, Del Webb Carolina Orchards, Tree Tops by Lennar, Essex Homes' The Villas at Covington, and Epcon Communities Courtyards neighborhoods all around town. You'll also see broker's video tours and current listings of Charlotte area new construction homes for sale in luxury neighborhoods. Custom home YouTube tours allow you to actually view the neighborhoods as if you were in the car of your Buyer's Agent REALTOR® Roger Holloway of ProStead Realty. Call/Text him at 704-345-3400.
Market stats: Mount Holly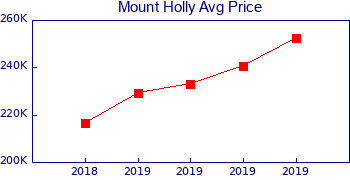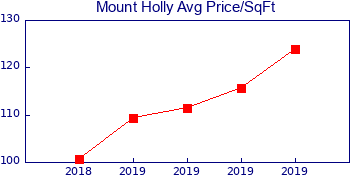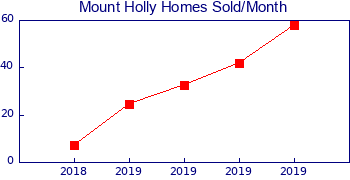 Mount Holly Homes
Listings 1 - 20 of 161
next
→
Listings 1 - 20 of 161
next
→
Take this YouTube Tour of the Dorchester (from the video)
I'm on location of the Imagery Mountain Island Lake and right next to this Dorchester one and a half story is this Elmont. The Elmont is available for right around 400 plus or minus. Look at the space between these houses. In my world that's a generous amount of space and same over on this side that you've got your next-door neighbor. Oh, wooded lots man, killer, nice. The space between houses and the woods behind it, I'm not sure it gets any better than that. Imagery is one of the premier 55 plus neighborhoods in Charlotte. This is Lennar's second time around after successfully launching Treetops which we love; we love how they've maintained the integrity of the site of the trees etc. and I want to show you a house that's available right now for sale and it's the one with the real estate dog up front. What's up Jack?  You want to go turn this house? Let's go, let's do it. Now the Dorchester if you've ever been to Treetops, one of their popular models it's the Dover with an upstairs and that's the way Lennar does it.
Now see again, I've got to just point out right here at the very front you've got space for a table or some kind of niche and here you've got two bedrooms and a bath up front and we've got granite guys – two bedrooms up front, the light is flooding in. This one was 450ish or so and it's just been marked down substantially. We can get a good deal; the price now is a good deal. This house is ready to go: two bedrooms and a full bath up and again the Dover is a proven winner but this Dorchester with the upstairs adds another bedroom – great for when the kids and/or grandkids come to visit or maybe down the road you need a caregiver and you've got a place for him or her to stay. So, we've got a laundry room coming in from the garage. Now if you order this from scratch this could be a door you know a wall with the French doors but guess what – I like it open because when you walk through it feels open. Now if you're not a formal dining room person you could put another place to sit here that would be nice for that chairs and squares millwork it's just nice open space, we'll go upstairs in a second.
Do you Need a Buyer's Agent?
My services are free, as a buyer's agent I'd love to be your buyer's agent. My cell number is 704 345 3400; corner pantry, Imagery, guys I'm just blown away by it. Check the Imagery playlist, dozens of videos this is what gets people down at the model, down at Treetops, in fact, there's a Dover model here in Imagery now the new models are open. But that Island gets people every time guys. So, you've got that wide open to this great room with windows and  you know what's really neat about this, this one particularly this is backed up to woods and so you've got a buffer, you don't have another house right behind  you and plus I've already shown you the side setbacks are generous meaning that  there's quite a bit of space between this house and the next house as you can see in this shot.
Now we'll go in the master bedroom but if you've ever visited a Dover you know about this little side right off the master we're gonna go look at that now then we'll pop upstairs. I love Imagery, this is the only waterfront/water view 55+ neighborhood. Boy, Lennar knows how to spec out a home. Now, this is backing up to woods, they do have some home sites from time to time that are water view. In fact, they do have one right now I'm thinking about on a lot next to my client's house which is cool. So, a normal bedroom would stop there but this one's got this extended sitting room which opens up through this door right out to this covered patio – could be a screened-in porch without much effort. If I lived here I would put some paver patios from there around to the rear of the house and tie it all together, Man this is great. See my wife would go ahead and say I'll have my coffee in 5 minutes dear, she'd come out that door and I'm having her coffee out there with her, I love it. I love the fact that they got granite everywhere and plus that transom window feeding into this large shower with some gorgeous tile. Wouldn't you agree at least, still going across, got granite here, two sinks, plenty of closet space and again this is a proven winner guys, this is a no-brainer proven winner. The Dorchester one and a half story version of the Dover, either way, you do it, wonderful.
How are Buyer's Agent Services Free?
So, my services are free because just like when you went to sell your house and your listing agent had enough money built into his or her fee for the agent bringing a buyer, they've already got a fee built in for me bringing you. I want to be your buyer's agent. The way that works is if you happen to reach out to them without me, I say this is huge. If you happen to reach out to the salespeople or the online sales person let them know that I am your agent — Roger Holloway from ProStead Realty, nice guys. I mean, to be able to buy this in the 425 to 450 range: four bedrooms and be on Imagery Mountain Island Lake, we're just a few miles away from I-485 and that's special in and of itself. And here we go, full bath granite So, again your kids are bringing the grandkids, you have a nice long day at the Latta Plantation across Mountain Island Lake and/or you know what Imagine-on or Discovery Zone; yeah, I do want to point this out, Advantech it's a very high-level product, cuts down on squeaks, etc. Then your kids are great, they've got a place to get away from Grandma and Grandpa and you've got a place for them to just hang out and enjoy your visit. I can't wait to talk to you soon. Jack, do you think that they should buy this house or not? I guess that's a yes.
Please follow and like us: